In this weekly blog series, I plan to share a training recap as I prepare for Brew City 1/2 Marathon in Milwaukee, Wisconsin. It will include an overview of my training plan with the good, the bad, & the ugly which every runner undoubtedly experiences along the way. Enjoy and let me know if you have any feedback or thoughts based on your experience.
Week #2 - Tuesday, January 10th:
Today I adjusted… the plan called for 5-miles at easy pace with 3 strides but I was worried time was too tight so I switched the days around. The run completed was 4-miles with ladder down speed work.
Sometimes splitting the day between virtual clients on Zoom and in-person at Crux Chiropractic leaves little time to spare. I knew if I didn't get moving before heading into work that my week would be hectic on the back end. Thursday morning I am traveling back home to Boston so the plan was to get two runs in before that and one long run on the weekend which should allow time to enjoy the weekend.
The route included starting from home in Riverwest, north on Humboldt, and east on Capitol Drive. This leads me directly to the Oak Leaf trail access next to Corner Bakery, Getting there is the perfect 15-minute segment to warm-up before incorporating speed work on the flat and fast Oak Leaf Trail.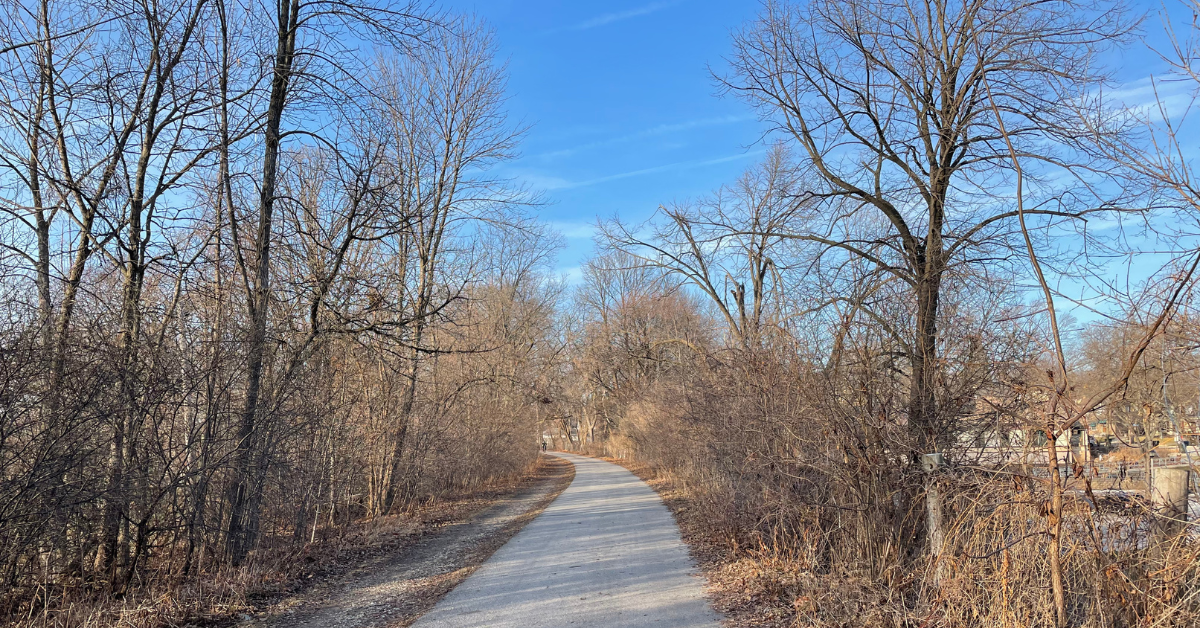 Ladder down is a progressive run that allows you to experience a variety of paces and intensities. The goal is to increase your running speed each segment as the interval reduces in time.
Here's the breakdown if you want to incorporate it in your plan…
Warm-Up:
15-minutes at easy pace
Workout:
5-minutes at fast pace
1-minute walk/jog recovery
4-minutes at faster pace
1-minute walk/jog recovery
3-minutes at faster pace
1-minute walk/jog recovery
2-minutes at faster pace
1-minute walk/jog recovery
1-minute at faster pace
1-minute walk/jog recovery
Cool Down:
15-minutes at easy pace
I'd say the run went well overall. The paces ranged from 11:23 all the way to 7:24. A very wide pace range before I begin settling into interval and threshold pace in the coming weeks. I find this is a smart prerequisite for me while mileage is low to get the body prepared for higher mileage and more speed work.
Truthfully, many of my running clients are very stuck in their pace range. Or, at least they were before we fine tuned their plan. They run easy pace too fast and rarely venture outside of that. Trusting the process to actually run your easy runs slower and then incorporating 20% of your total mileage as speed work is a recipe for success.
Throughout the run I had the entire path free and clear without many other people. I did see some nice birds such as cardinals and chickadees, not to mention the bare trees allow a clear view down to the Milwaukee River. With the sun shining and 42-degree temperatures, it was hard to complain on this one! We need to enjoy these days while they last because we'll most likely be in the negative temperatures again.
Thursday, January 12th:
With a switcharoo of the running days this week, I knocked out 5-miles with 5 strides. The run started at Atwater Park in Shorewood and I went south down Lake Drive through Lake Park and towards the Historic Water Tower. It was a super flat route, as most are in the area, but it was nice as there were many different changes in scenery. From a foggy but beautiful bluff overlooking Lake Michigan, to the peaceful Lake Park. This park has become a favorite of mine as I take the dog here for a walk almost daily.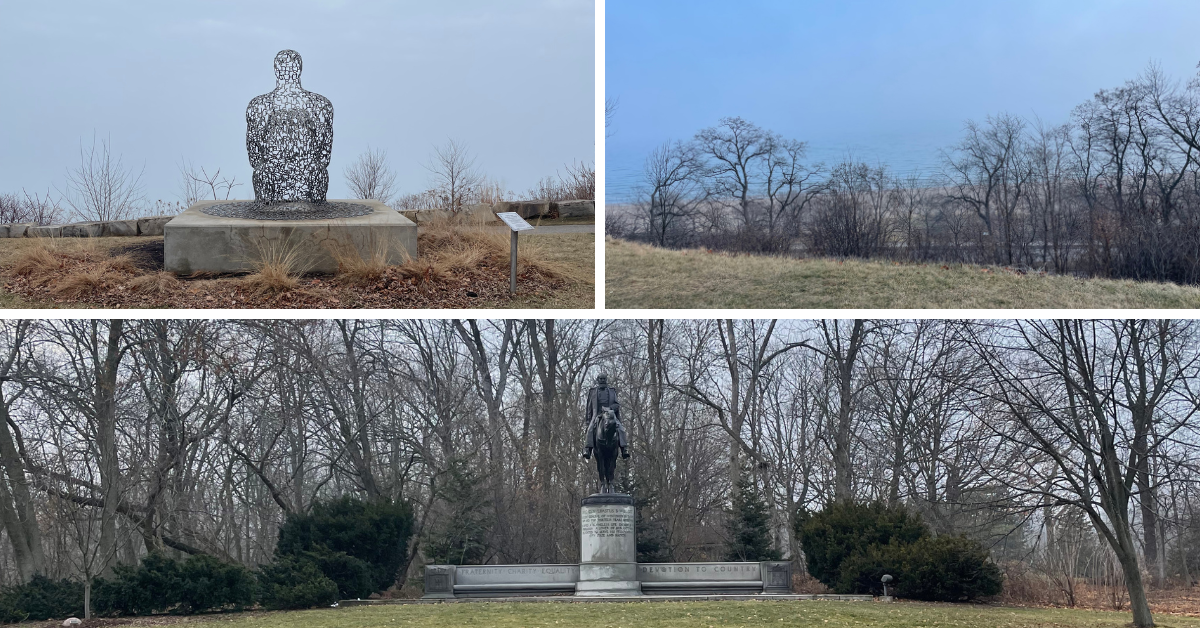 The Garmin seemed to be reading funky early on as the first 2-miles showed I was in the upper zone 4 range. I disregarded this as my perception of the intensity felt pretty low. I actually maintained relatively the same pace throughout the entire run but it ended up dropping in the mid-low zone 3 range. Proof that it just wasn't reading correctly. Whether it was how the watch was positioned on my wrist, or the tag from my gloves that tends to slide underneath, I'm glad I wasn't crazy and completely off point with my easy pace.
The knees gave a somewhat uncomfortable, but normal, achy sensation as I hit a long but gradual downhill section. Back in 2016 I had on/off knee pain that is rarely an issue, but they often provide reminders that I need to be smart with my training.
Since it was an out and back, the knees rejoiced while powering up the incline section. When it comes to the knees, there tends to be a greater degree of overstriding and thus impact as you run downhill. Uphill running will shorten the stride, and, therefore, reduce the amount of force into the knee joint. If you have wonky knees like me you'll probably agree firsthand that the knees know the difference!
The small restaurant at Lake Park was my saving grace today as I had to pee so bad. I knew as soon as I started the run that things might get dicey. But I made it 4-miles before running past the restaurant and public bathrooms on the lake side. This allowed me to finish strong and transition into strides nicely.
Strides are short, approximately 20-30 second, accelerations from a standstill or slow walk. I did these on the flat section of Lake Drive in Shorewood just south of Atwater Park. Besides dodging the woman with an overly friendly dog, I had a lot of fun picking up the pace to finish my run.
What I like about strides is they are a simple way to incorporate faster paces while also opening up the joints and muscles following an easy run. Easy running requires a very small range of motion that often leaves me feeling tight and restricted. So strides helped unwind the body to get back to status quo.
Pacing ranged from 11:30 to 6:30 today as I compare the easy running and strides. Once again, a nice wide pace range to expose the body to a variety of demands before more intensity will find it's way into the program in the weeks to come.
Saturday, January 14th:
This Saturday long run was completed in Boston with my sister which was enjoyable. We did 7-miles on a path in Dorchester and through some neighboring areas which I don't know well. It provided different scenery as the path followed the course of a river and different wooded areas. A unique woods-like feel to balance city life.
Lately, we have been talking about pacing together and this was slightly on the faster side. The path was super flat except for a few boardwalk-type bridges that were gradual. Since it was an out and back, we were able to enjoy the incline and cruise back down the decline on the way back. As always, the knees protest ever so slightly on downhill sections.
Next week will be a drop week where volume is reduced to let things settle and facilitate better recovery. Although this doesn't feel needed at this part in my training, I never pass up a drop week since things can go sideways quickly later in the training plan.
Drop weeks are typically added every 2-4 weeks depending on the duration of the running plan and where the race date falls. In the end, your success ultimately comes down to balancing the amount of stress placed on the body and how well it recovers. Rather then working hard but getting in the way of the recovery process, it's important to let the body do it's thing. Don't let hard work sabotage your efforts. More is not better, better is better!
In the coming weeks, the plan will increase in mileage to accommodate longer weekend runs, hills, and interval pace (fartlek) speed work. That will surely bring more enjoyment to the week but, fortunately, discipline has been strong to stay the course with some boring yet necessary foundational running thus far.
Thanks for following along this week! If you have any questions or want to talk about creating an individualized running and injury prevention plan for you, click the 'Healthy Running Program' tab above and fill out the form.
Onward to week #3!